Journey (Meshwar)
Journey or Meshwar in Arabic is the title of the work composed by the legendary Nai player Joseph Karam which is structured on many keys and scales going through a journey and fully orchestrated by the conductor Samer Hatoum.
Joseph Karam is a Lebanese legendary Nai player, oriented and rooted in the oriental music.
> >
Tarzanween (Oriental Scale)
Tarzanween is one of the oldest musical scales which came from the Middle East. This scale is not in use in music in our time which gave the great opportunity for Joseph Karam the ( Nai player, composer ) to work in collaboration with the composer and conductor Samer Hatoum to orchestrate this Tarzanween for the Oboe,Piano & strings in the European style to connect the East with the West.
> >
Joseph Karam (Nai player)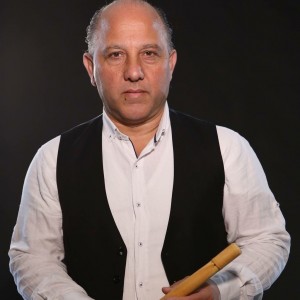 Samai Nahawand is an oriental style and structure in music which goes back to the Middle East and it's spread in music to Spain which was called Andalusia.
This composition is the first collaboration with the Lebanese composer, Nai player Joseph Karam who has a long history in music performances with prominent singers as Wadi El Safi & Samer Hatoum the composer, orchestrator & conductor with a European vision to demonstrate the glory of Samai Nahawand style orchestrated for the Nai and orchestra to reach out the name Samai Nahawand between the East & West for Nai & Orchestra.
Nai is an old oriental instrument which is distinguished by it's sound, technique and role in music with it's private personality and solo improvisation it can produce and was mostly used for the solos, melodies and specifically for meditation music.
> >
The Hounted Music Box by Composer Veronica McCarrison
This new composition by Veronica McCarrison called The Hounted Music Box from New Zealand was arranged thematically and orchestrated by Samer Hatoum for Piano & Cello as a part of their collaboration to explore the themes of this New Zealand rising composer .
> >
You can here see the first page of the score below.
If you are interested in the full score please contact us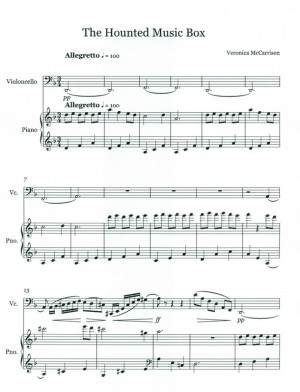 American Composer Sarah Wagner
Sarah Wagner is a composer of regular and irregular theme structure bases her imaginations on the free melodic move and free expressions Had her first composition called Re-Quest which was fully organized and orchestrated by maestro Samer Hatoum.
> >