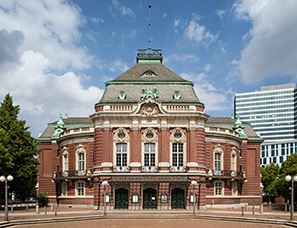 The Laeiszhalle/ Kleiner Saal in Hamburg welcomes the audience and fans of classical music in Hamburg city to enjoy a classical evening with the concert pianist Ioana Maria Lupascu who will perform a piano recital on February 19, 2016.
This event will be resceduled for a later date.

This piano recital is the result of the musical collaboration and achievement between the pianist Ioana Maria Lupascu who has performed with many symphony orchestras in Europe and had a successful collaboration with the conductor, composer and orchestrator Samer Hatoum with the Ploeisti Philharmonic Orchestra.
This piano recital ( Piano Jewels ) is meant to bring the classical music concert fans and the new generation together and to encourage young people to learn more about piano musical abilities.
Many studies show that classical music has positive impact on enhancing children's intellect and stimulating their development. As an evidence of this, Samer Hatoum had a successful collaboration with a psychologist who holds a PHD in music therapy Dr. Hamda Farhat in treating young people through the compositions of Samer Hatoum. Upon understanding the importance of educating young people about classical music, we have organized a campaign called: "Young People and Piano" and invited students from high schools in Hamburg to attend this event in order to experience live classical music recital.
The German Minister of Culture, Monika Grütters and First Mayor of Hamburg, Mr. Olaf Scholz will be our special guests.
More information about the Laeiszhalle is available at
https://www.elbphilharmonie.de/home.en
Information about the booking is available at
https://www.elbphilharmonie.de/events/000000e9:000286d6.en
The program is :
Sergej Rachmaninow: Moment musical Des-Dur op. 16/5
Sergej Rachmaninow: Moment musical op. 16/4
Saeed Sharifian: Country Images Nr. 3
Giuseppe Verdi: Ouvertüre zu »La forza del destino« / Bearbeitung für Klavier von Samer Hatoum
Astor Piazzolla: Tango Provincial
Manuel de Falla: Danza del fuego fatuo / El amor brujo / Der Liebeszauber
Astor Piazzolla / Ioan Dobrinescu: Ave Maria
Samer Hatoum: My Journey
Augustín Lara / Ioan Dobrinescu: Solamente una vez
Consuelo Velázquez / Ioan Dobrinescu: Bésame mucho
Pietro Mascagni: Intermezzo aus Cavalleria rusticana / Bearbeitung von Samer Hatoum
Guy Bacos: Variations on »Lie, ciocârlie
For inquiries contact: +49 40 357 666 66
Email: This email address is being protected from spambots. You need JavaScript enabled to view it.