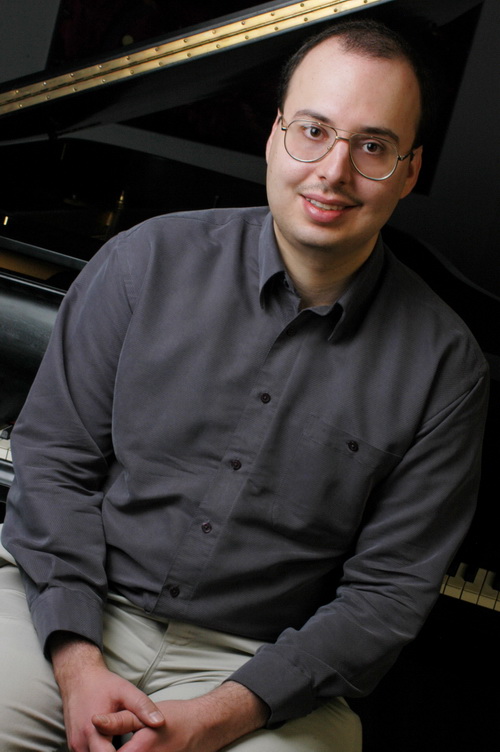 Kevork Andonian is a highly talented music composer, orchestrator, arranger, songwriter and pianist. Kevork Andonian participated with four of his music compositions in the rehearsal session recording with the Danube Symphony Orchestar in Budapest-Hungary which was conducted by Maestro Samer Hatoum.
Originally from Ottawa, Canada he is currently pursuing post-graduate studies in Music Composition and Film Scoring at the University of California, Los Angeles (UCLA) where he is also a Teaching Fellow. While at UCLA he has studied composition with Ian Krouse, Roger Bourland, James Newton and David Lefkowitz. Andonian developed a great passion for music creation at an early age. At age six he began writing music out on score. Andonian holds a Bachelor of Music Degree from Carleton University where he studied composition with the late Canadian composer Patrick Cardy, graduating with Highest Honors in 2001. The recipient of many scholarships and awards, Andonian was also awarded the Carleton University Medal in Music upon his graduation. He also holds a Master of Music in Theory and Composition from the University of Ottawa where he also taught as a part-time professor. His thesis advisor was Steven Gellman, a prominent Canadian composer who studied with Luciano Berio, Vincent Persichetti and Olivier Messiaen.

A versatile composer, Kevork Andonian has composed for the concert hall, theater, as well as for film, video, multimedia and dance productions. His creative musical language stresses the importance of melody, rich harmonies and evocative sonorities. A variety of emotions, rhythms and instrumental colors are portrayed in his music. He draws his inspiration from classical music, a myriad of world musics, jazz and pop. Currently he lives and works in Los Angeles and is Resident Composer of the Los Angeles Dream Orchestra.

Canada, the United States, Germany, the Czech Republic, France, Belgium, Italy, Finland, Romania, Hungary, Spain and Armenia have all hosted performances of Kevork Andonian's compositions and symphonic arrangements. His musical output has been performed by world-class musicians including the Grammy-nominated Lincoln Trio, members of the National Arts Centre Orchestra of Canada, the Omaha Symphony and Los Angeles Philharmonic in prestigious concert venues such as Toronto's Glenn Gould Studio, Barcelona's Auditori, New York City's Carnegie Hall and Los Angeles's Walt Disney Hall.

In Belgium, world-renowned flutist Marc Grauwels and marimbist Sarah Mouradoglou recorded a composition by Kevork Andonian entitled "A Longing For Joy" for the Naxos record label. The name of the album is called "Music for Flute and Percussion, Vol. 2" and is currently in worldwide distribution. Recently Andonian composed a piece for Native American flute, violin, frame drum and piano to be released on a Canadian CD album this year dedicated to music based on Aboriginal themes. Centaur and PARMA record labels are interested in releasing some of Andonian's orchestral, chamber, and solo piano works in the near future.

Kevork Andonian also has written songs he would like to promote to various artists; he has worked on pop and world music albums in Canada and the United States including the production of a demo song for the album "I Look To You" by the late Whitney Houston. Andonian finds much fulfillment and joy in collaborating with choreographers, lyricists, filmmakers, producers, and other musicians. He is also an accomplished pianist and performs in many musical genres. He has performed at international festivals in North America and Europe as well as for heads of state including Jean Chrétien, former Prime Minister of Canada.

Links:
YouTube Channel – https://www.youtube.com/user/Kevork518/videos
Film Music Demo Reel – http://www.youtube.com/watch?v=ERef_qwKbOQ
Some Related Videos:
Ararat Overture
This is a single-movement work for full orchestra composed in an "A-B-A" form. The piece contains Armenian musical idioms. Mount Ararat is the national symbol of Armenia. Armenian artists often depict the mountain in paintings and engravings. From much of present-day Armenia, people can get a clear glimpse of both peaks in spite of the fact that Ararat is presently located in Turkey. The Old Testament of the Bible states that Noah's Ark rested on the highest peak. Mount Ararat for Armenians symbolizes incredible beauty and permanence, but also dominance and injustice. Since Mount Ararat is now part of Turkey, it is especially a reminder of the over 1.5 million innocent Armenian victims massacred by the Ottoman Turks in 1915. The "A" sections of the piece represent the domination Armenians have endured by different peoples over many centuries. These sections have a quasi-militaristic feel with well-defined tonal areas. The "B" section represents the will to be free from oppression and suffering. This section is largely non-tonal and portrays a variety of timbres. It is in the "B" section that the dream of the Armenians to reclaim Mount Ararat is manifested.
Tableaux
Cinematic and picturesque, each section of Tableaux represents one of the following opposing Jungian archetypal figures of the human condition: the Innocent, the Jester, and the Hero. The 'Innocent' is characterized by dreamy mysticism and naivety represented by a consistent arpeggiated pattern in the harp around and upon which slow-moving melodic lines as well as static tone clusters in pure instrumental colours abound without any metric implications. In stark contrast, the 'Jester' is personified by wit, humor and sarcasm through the use of short quasi-pointillistic fragments with particular rhythmic identities meticulously articulated and exhibiting various orchestral colours. In the final section, the 'Hero' is mainly presented in the brass section in an imitative, stately fashion which builds to a climactic, triumphant tutti. Although the vignettes differ widely in tempo, texture, timbre and rhythm much of the intervallic pitch material connects all sections together.
Film Noir and Cowboy Western Themes
These are two short film music cues defining two key genres of Hollywood Cinema. Both cues are main titles (used for the opening credits).