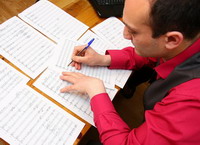 I offer a high quality service in scoring, engraving and editing for the use with professional chamber, symphony and philharmonic orchestras anywhere in the world by using Sibelius latest version. The music will be readable with clarity and illustrated to the musicians and conductors to work with comfort.
Being a musician, orchestrator and conductor allows me to know the skills each member requires to perform.
Scoring and engraving will start from the smallest ensemble size to the full orchestra size and the time required to finish the work will be decided upon the level of the music given to me.
I will be available any time for editing, deleting and updating extra signs, articulations, repetitions, speed indications, and any other information may be required by the composer, arranger and/or conductor to suit their needs after finishing the work with no extra charge.
The fee will vary upon the type of work I will be asked to do which will be discussed individually.
Piano version will be given free of charge on any chamber or orchestral score to the first work I will be asked to do. Scores finished will be sent in PDF which is the fastest way and free delivery.
The orchestration work I deal with is the following:
Adding instruments weather individual or in sections on pre-existing piano score:

Woodwind section
Brass section
String section

Scoring for solo instruments on existing music and adding additional orchestra section and/or piano on request.

Piano & (Flute-Oboe-Clarinet-Bassoon)
Piano & (Horn-Trumpet-Trombone-Tuba-Euphonium)
Piano & (Violins-Viola-Cello-Contra Bass)

Scoring for any solo instrument with any orchestra section or required specific instruments without piano.
Orchestrating for any required instruments up to full orchestra size and upon the level of the music from piano score.
Minimizing the score from any ensemble size and full orchestra to piano version on request for some performance uses specially for master classes.
| | |
| --- | --- |
| Job type | Price per minute |
| Single melody line | €30 |
| | |
| | |
| | |

Click here for information regarding services pricing.
Please contact me for engagement and any further information you may need.