The Score "Will I Meet You Tomorrow"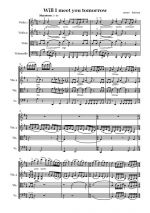 My Score "Will I Meet You Tomorrow" is now available from my webshop.
Last Month the score was recorded by some fabulous musicians in Ihsan Almounzer's studio in Lebanon. I can therefore in addition to offering the score as sheetmusic also offer you mp3 downloads.
We recorded two different versions of the acore, called "European" and "Lebanese". You can listen to and purchase the mp3 recordings from here.
You can either purchase the mp3's individually at €2, or the whole score as sheet music including both versions of the mp3's in a package at €5. Simply go to the album page and click on the "Add All Tracks To Cart" link.